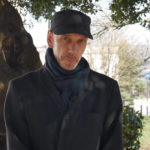 My earliest artistic influences were comic art, the Beano, 2000AD and Asterix. I also loved discovering the work of Druillet and Moebius in Metal Hurlant magazine. Childhood visits to National Trust properties like Chatsworth House and the Reader's Digest books on the shelves at home gave me an early taste for renaissance and classical art. As a young teen, the iconoclasm of punk rock was a big influence that opened up new ways of looking at the world.
I was very lucky to have studied at Goldsmiths with many other artists who went on to become well known, such as Sarah Lucas, Michael Landy, Angela Bullock, and Damien Hurst. Sharing ideas and getting inspired by other artists was very beneficial, even though the general trend at the time was towards conceptualism.
These days, I'm confident to follow my own artistic path, feeling more affinity to the outsider artists and graffiti artists that work in my neighbourhood of Stokes Croft than the hardcore conceptualists who exhibit down the road at the Arnolfini. If forced to find a genre to put myself in I would have to suggest Urban Baroque.
Education
2002 Foundation in Adult Education Teaching (FAETC)
1999-2000 HNC New Media: City of Bristol College
1985-1988 BA Degree Fine Art: Goldsmiths College, London
1984-1985 Foundation Art and Design: Filton Technical College, Bristol
1977-1982 Cotham Grammar School, Bristol
Exhibitions
1987 The Showroom, Bonner Rd, Bethnal Green
Mixed show with Sarah Lucas, Grenville Davey & Jill Bradley
1990 FREVD, Shaftesbury Avenue, London
Solo exhibition
1990 The Thumb gallery, Islington, London
Solo exhibition
1992 Cooshti Clothing, Colston Avenue, Bristol
Solo exhibition
2003 The Bristolian Cafe, Picton Street, Bristol
Solo exhibition
2013 It's All 2 Much Gallery, 124 Cheltenham Road, Bristol BS6 5RW
Open Walls mixed show
2013 The View Gallery, 159-161 Hotwell Road, Bristol BS8 4RY
Summer Salon mixed show
2014 The View Gallery, 159-161 Hotwell Road, Bristol BS8 4RY
Altered States mixed show
2019 The Arcade, Broadmead, Bristol BS1 3JD
Descent exhibition at the Space Invaders popup gallery, part of a mixed show with Beki Wills and Mark Hollis
2019 Hamilton House gallery space, 80 Stokes Croft, Bristol BS1 3QY
Urban Baroque solo exhibition
2022 The Altered Festival: Artivist in a Box Project, at Keep Art It in the Galleries, Broadmead, Bristol, BS1 3XD
2019-2023 The People's Art Fair, exhibiting drawings, paintings and prints in various mixed shows put on by The People's Republic of Stokes Croft,17-35 Jamaica Street, Stokes Croft, Bristol BS2 8JP
2023 The View Gallery, 159-161 Hotwell Road, Bristol BS8 4RY
Visual Poetry mixed show